Search Results
There are 15 results for "setting powder"
Concealer or Foundation, which comes first? This is one of the most common beauty inquiries. To answer this age old question, there are a few things that you have to consider such as foundation and concealer type and application technique.

Rachel Short, licensed esthetician and head of education for Dermablend Professional, takes us though some tips and tricks to demystify your concealer and foundation application.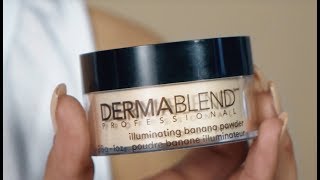 Introducing banana powder illuminating setting powder. Dermablend's best-selling loose setting powder, now in a luminous finish. The brightening banana shade is never ashy or flat.
Tattoos are great, however there are some occasions where people do not want their ink to be on display.Andrew Velázquez, a Professional Makeup Artist in the Los Angeles area takes us through his step-by-step guide for how to cover a tattoo with makeup.
For decades, queens have gone to great lengths and gotten creative with their cosmetics to transform their mugs from basic to beautiful. Chelsea Piers, a Drag Queen in New York City takes us through her best makeup tips and tricks.
Full coverage foundation can be a savior for your skin (and your sanity), especially when you're dealing with redness, acne, post-acne scars, dark spots or undereye circles—and all of us are bound to experience at least one of these at some point.
Choosing the proper makeup for acne-prone skin is key for minimizing further breakouts, and as the #1 dermatologist recommended coverage brand, Dermablend has you covered.
Full-coverage foundation isn't just for your face, there are several scenarios when body makeup may be in order.
No makeup bag is complete without concealer, and this one hard-working product is the secret to complexion perfection.
Wearing a face mask doesn't mean you have to press pause on your makeup routine. Every one of Dermablend's complexion-perfecting products are dermatologist-tested, sensitive skin-tested and fragrance-free, so you know they are not going to make mask-related breakouts worse.
Makeup wearers are concerned about the transfer-resistance of their makeup, but a key product to keeping your makeup on your face and not on your mask is setting powder.
Dr. Love talks about how to wear makeup with a face mask, specifically Dermablend Cover Care Concealer.
<< Back to Product Results